PKU Shenzhen operates a plethora of sports and athletic facilities exclusively for its students and staff members.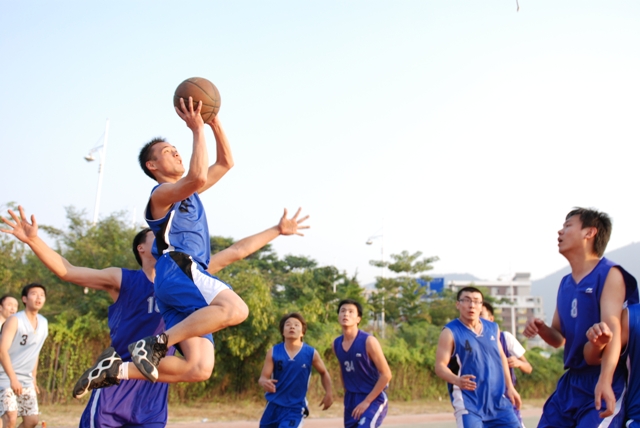 Athletic Track
A PKU Track and Field ground is located behind student dormitories. It consists of a soccer ground, facilities for athletic events including long jump, triple jump and shot put and a standard 400 meters track that is regularly resurfaced.

Sports Center
The sports center is located in Building G in front of student dormitories. The sports center consists of three international standard badminton courts, a table tennis room and a billiards room. The sports center also houses a modern gymnasium with a wide range of exercise equipment and a weight training area.


Hours (Weekday)
Hours (Weekend
Price

Gym

7:00am-9:00am
4:00pm-12:00am

7:00am-9:00am 2:00pm-12:00am

Membership:
1 month (30RMB)
6 months (160RMB)
1 year (300RMB),
Nonmembers: 5RMB/visit

Badminton Courts

7:00am-9:00am
4:00pm-12:00am

7:00am-9:00am 2:00pm-12:00am

Members:4RMB/hour
Nonmembers: 5RMB/hour
Table Tennis
Tables
7:00am-9:00am
4:00pm-12:00am
7:00am-9:00am
2:00pm-12:00am
Members:4RMB/hour
Nonmembers: 5RMB/hour
Due to high demand, the badminton courts are often booked in advance. You can make a reservation with staff at the entrance of the sport center.

Dance Studio
A dance and yoga studio serves as the main practice area for various departmental dance teams. Student associations hold regular yoga and dance classes. In addition, Tai Qi classes offered by the General Education Department of PKU Shenzhen are also held here. In addition, the Worker's Union organizes weekly dance, yoga and Tai Qi classes for faculty and staff at a low cost.

Other facilities
In addition to the Sports Center, there are five outdoor badminton courts located behind student dormitories. Three basketball courts and three tennis courts are located beside the PKU Track and Field. These outdoor facilities are constantly inspected and renovated by the University Town authorities.

General Education Department
The General Education Department of PKU Shenzhen offers instructional classes such as tennis, yoga, Tai Qi (martial arts), badminton every semester. Students can enroll for these classes on top of their regular courses.

Map of PKU Shenzhen Athletic Facilities