Nanyan is an active and inclusive campus. Residents join a highly select and diverse group of peers and live together in comfortablefacilities that promote interaction and community building.
Over 4 out of 5 international students and many international staff choose to live on campus.The dormitory buildings are managed by the Campus Service Center, whose office is located in Building 4 near Mirror Lake.While living on campus is not required for international students, we highly recommend it because of the relative affordability and convenience.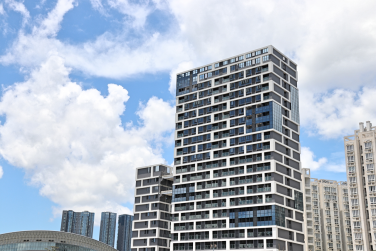 Beginning in the 2021-2022 academic year, international students will reside in the new international student dormitory building of PKU Shenzhen. Construction of this building is currently underway and more information about the accommodations will be shared upon completion.
It is only a 5-10 minute walk from the dormitory buildings to the various academic buildings on campus. Furthermore, convenience stores, restaurants, athletic facilities, canteens, leisure areas and a campus entrance gate are all located right around the dormitory buildings.
Dormitory Rooms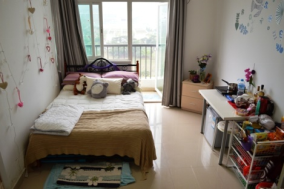 This is a typical single room for an international student. Room furniture includes a bed, desk, chair, wardrobe and bedside table. Many students buy additional furniture at Ikea during orientation.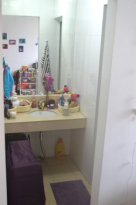 All international student rooms have a western style toilet, sink and shower.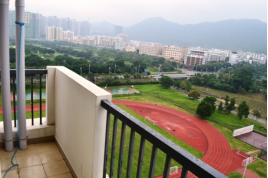 All rooms include a small balcony. There is a dryer on the first floor of each building, but most students choose to hang their clothes on their balcony.
Basic Details
Each international student dorm is equipped with the following:
Bed frame, desk, chair, cabinet

Full bathroom

Air conditioning

Hot water

Western toilet

Small balcony

Wi-Fi
Note: Washing and drying machines are located on the first floor of dorm buildings
Common purchases for dorm room:
Mattress

Bedding

Extra shelf and storage

Lamp
Housing Costs (Current academic year, subject to change)
Full year: 12,000 RMB/year for a single room and 6,000 RMB/year for a double room
Semester (exchange students): 6,000 RMB/semester for a single room and 3,000 RMB/semester for a double room.
Students who are staying in the campus housing for the following school year may stay in their dorm room over summer break at no additional cost. However, 1st year international students who do not wish to remain in their dorm room for the following year must check out by the deadline of the final semester they are staying in the dorms. Therefore, check out must happen beforethe approaching summer or winter break for such students.
All exchange students must check out of the dorm room by the deadline set for the end of the relevant semester of exchange. Exchange students may not stay in dormitory housing over the Chinese New Year Break or Summer Break unless they are remaining as exchange students the following academic semester.
Short Term Housing
There are no short term housing options available at PKU Shenzhen. If you are returning to defend your thesis and plan to stay for more than a month or on a short-term exchange, payment must be made for the entire semester. If you are planning to stay for less than a month, accommodation cannot be provided on campus. You will have to arrange for your stay elsewhere.
Room Change
Room changes are not permitted for on campus housing. If a student is unsatisfied with their room arrangement, they can try to find a fellow student to exchange or swap their room with. Students looking to change to a different room may also consult a school coordinator to see if there is a room exchange option available.
If out of special circumstances, you would like to petition for a room change or change your type of room to a single or double room, you must fill out a form provided by the university and the petition will be reviewed by the individual's school, the Campus Affairs Office and the International Affairs Office.
Room Cancellation
Exchange students on programs for less than one semester still must pay for a full semester of campus housing.
The accommodation fee for students who have a delayed or late arrival on campus will be based on the fixed arrival date set by the school. The accommodation fee for full-time international students who apply for housing or checkout of housing mid-semester will have the fee calculated based on the number of months. Any partial month will be calculated as a full month. In the case of a refund, any refunded fee can only be transferred to the Ping An bank account connected with the student's campus card.
If you would like to cancel your housing or check out before the expected checkout deadline, go to the Campus Service Office to complete the procedures.

Mailing Address
International mail may be addressed in English. International mail and packages will be held in the mailroom of Building C, Room 107. Property Services sends a monthly email listing the names people who have not yet collected international mail items.
Name
Building/Room number
Peking University Shenzhen Graduate School
2199 Lishui Road, Nanshan District
Shenzhen, People's Republic of China, 518055
Chinese address:
Name
Building/Room number
中国深圳市南山区丽水路2199号
北京大学深圳研究生院
邮编51855