Many of our students are making long journeys to campus. We want to make your first step into your new home as seamless and straightforward as possible.
However, there are many components to arrival and settling in on campus. We recommend incoming students understand what arrival day includes in order to know what to expect and anticipate what will be required.
Arrival Day
Full-time and exchange international students should arrive on campus according to the scheduled arrival date of their first academic semester at PKUSZ. Please pay attention to the information sent from the school of your degree or exchange program. The School of Transnational Law and HSBC Business School typically have different arrival dates.
The arrival will begin when administrative offices open at 8:00am in the morning. All new students should arrive by 2:00pm in order to ensure enough time to complete the necessary procedures.
Arrival Day components:
● Check-in and welcome bag
● Registering for domestic cell number
● Opening bank account
● Campus Card (includes room key)'
● Dormitory check-in
● Hot water and electricity payments
On arrival day, staff from the International Affairs Office and the school of your degree or exchange program will be present to assist new students. There will also be Chinese student helpers, international student volunteers, and Campus Advisors coordinating with staff and helping new students complete the arrival procedures at all of the various sites.
All of the arrival day procedures, apart from the optional shopping trip, will be completed within the University Town of Shenzhen for your convenience.
While there are many significant items to pack, having the proper paperwork for arrival day is key. Below is a checklist, but you should also make sure to conform to the specific information provided by your school's coordinator.
Paperwork Checklist:
o Passport
o Admission Letter (original)
o JW 202 Form (original)
o Original Diploma (full-time only)
Getting to Campus
Incoming students are responsible for working out their own arrival to campus. While we do not provide a shuttle or any other transportation service, we do have resources to support students on how to arrive to campus.
For information on how to get to campus, refer to the Visit Us page.
Directions for taxi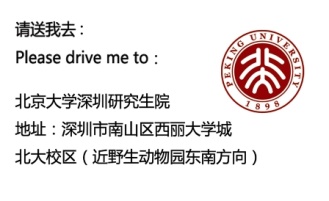 Irregular Arrival
We highly advise arriving within the proper hours of the scheduled arrival day. Failure to arrive during these times may result in procedural delays or inconveniences like needing to make trips off campus and complete processes independently without the support available on arrival day.
Arriving Early
Students cannot check-in to their dorm rooms before the scheduled arrival day. Arriving too early can lead to visa and residence permits issues. It is not advised to arrive more than a few days early. Please inform your school's coordinator as soon if you would like to enter mainland China before the scheduled arrival date. If you are already in mainland China, make this clear with your school's coordinator in order to ensure you receive your proper visa.
If you believe you are arriving in the morning before the offices open on arrival day, you may consider a nearby hotel to stay in until later in the morning. On a nice day, you may also wait besides the Mirror Lake.
Arriving Late
Arriving after the scheduled arrival day will result in procedural inconveniences and possible delay in receiving a residence permit. There are also many mandatory orientation information sessions and activities that start immediately after arrival day. If you are arriving on a later date, you must inform staff so we prepare the materials for your arrival on the correct day. This may also require completing certain procedures independently without the same extent of support available on arrival day.
If you believe you are arriving after offices close on arrival day, we will make every effort to provide you access to your room, but you must notify staff well in advance in order to have a temporary room key prepared. If travel delays result in you arriving too late on arrival day, we recommend finding a nearby hotel.
Activities
After the initial arrival day, the rest of orientation includes a large variety of activities that provide everything you need to adjust to campus life. Specific details will be shared in the orientation schedule sent out to incoming students at least one month before the arrival date.
The orientation activities introduce students to parts of Shenzhen, explore cultural sites, promote integration between Chinese and international students, address culture shock, provide how-to's on everything from insurance, athletic facilities and Chinese apps; and introductions to campus technology resources, academic affairs, and much more.
These activities facilitate exchange and friendship among each cohort of new international students and help provide the building blocks of having success at PKUSZ and effective cross-cultural learning and living.
Because PKUSZ is a rigorous academic environment, we highly encourage new students to get involved in the campus community quickly. Very soon, the academic workload will be a significant demand on one's time and limit social engagement.
Registration
PKU Shenzhen registration day is the day for new international students to receive final permissions to enroll and officially become a PKU student. Individuals must complete the registration procedures before registering for classes.
Registration day takes place in one central location and staff from multiple administrative departments will be present. Procedures include checking documents, confirming or making payments, receiving a PKU shirt and turning in the final registration form.
Preparations are made to make the process very convenient. In the fall, students can even get their registration permit photos taken on site. The whole process usually takes no more than 10 minutes for each student.
The registration day is typically held for new international students the day after the arrival of PHBS international students.
Health Check
All full-time international students and exchange students who wish to receive a residence permit must complete the authorized health check and obtain the health certificate issued by the Shenzhen International Travel Healthcare Hospital.
The school will accompany you to the hospital for your health check. The health check is required even if you completed a similar health check in your home country for your visa application. The health check includes a blood test, urine sample and X-Ray and costs approximately 500RMB (subject to change; cost to be paid by the student). You will need to bring your passport, 500RMB in cash (credit or debit cards are not accepted) and two photos which you will receive in step. It takes about one week to receive the results of the health check.
Campus Card
All students and staff receive a campus card issued by the University Town in partnership with Ping An Bank. The campus card is a debit card attached to a bank account with Ping An Bank that will be opened upon arrival. Therefore, it is a standard mainland China debit card (UnionPay) that can be used throughout the country and online. Scholarship students and campus staff will have their stipend deposited to this account.
Apart from being a standard mainland China debit card, the campus card has many special functions for life within University Town. It serves as your campus ID and room key. It has a separate e-wallet for University Town purchases in campus canteens, stores and restaurants, which includes a 10% discount in many places. It also allows you to borrow books from the library and enter the University Town Swimming Facility.
Students and staff will receive their campus cards on their first day at campus regardless of whether they are living on or off campus. However, in some cases, due to financial regulations within China, a student or staff member may receive a temporary UTSZ guest card due to a longer bank account opening process or inability to open a Ping An Bank account.
Shopping
New arrivals will have easy access to all the necessary items they may need for routine life and their campus housing.
There are several convenience stores on the ground floors of the PKUSZ dormitory buildings, including a 711. These stores are open late, and do not close until after 11pm.
On the scheduled arrival day for new international students, an IKEA trip is organized by staff of the university. Staff and student volunteers will accompany new arrivals to IKEA were students can conveniently purchase items for their dorm. Large items can also be shipped next day to campus and assembled by IKEA staff.
Because of its relative affordability and convenience, online shopping is very widespread in China, including among students at PKUSZ. Many students choose to purchase many items for their dorm rooms from online vendors on platforms such as Taobao and JD.com. These items will be shipped to a central dormitory building location for students and staff to retrieve. Incoming students may make online purchases as soon as they have their mainland China debit card. However, students should not have items shipped to campus before they have arrived. There is no staff to collect or storage room.
Delivery address for online shopping:
广东深圳市南山区桃源街道北京大学深圳研究生院燕园5楼
Room Change
Room changes are not permitted for on campus housing. If a student is unsatisfied with their room arrangement, they can try to find a fellow student to exchange or swap their room with. Students looking to change to a different room may also consult a school coordinator to see if there is a room exchange option available.
If out of special circumstances, you would like to petition for a room change or change your type of room to a single or double room, you must fill out a form provided by the university and the petition will be reviewed by the individual's school, the Campus Affairs Office and the International Affairs Office.
Room Cancellation
Exchange students on programs for less than one semester still must pay for a full semester of campus housing.
The accommodation fee for students who have a delayed or late arrival on campus will be based on the fixed arrival date set by the school. The accommodation fee for those who apply for housing or checkout of housing mid-semester will have the fee calculated based on the number of months. Any partial month will be calculated as a full month. In the case of a refund, any refunded fee can only be transferred to the Ping An bank account connected with the student's campus card.
Technology
The University Town of Shenzhen, home of PKUSZ, is China's first and only "smart science and education campus" of its kind. In 2020, a large-scale Wi-Fi 6 network by Huawei was installed throughout the university with new routers in every dorm room.
Wi-Fi
Wi-Fi is not included in housing or tuition payments. Students must subscribe to a Wi-Fi plan to receive access to campus Wi-Fi.
Students who show up during the arrival week have the opportunity to sign up for a student SIM card with China Mobile that includes UTSZ Wi-Fi at no additional cost.(Note: this is only available if the SIM card is applied for on a university campus in Shenzhen and China Mobile will only be on campus at the beginning of semesters. Late arrivals may miss out on this opportunity)
PKU Accounts
Upon arrival, students will activate their accounts for course registration, PKU email and PKU web services.
Once student or staff PKU portal account is activated they have access to licensed software and web tools of Peking University. Available software can be foundhere. English versions of most software products are available on the platform.
VPNs
New students may want to download these VPNs. Students and staff must use the PKU VPN or UTSZ Library VPN to access certain resources outside of the campus network.
PKU VPN: The PKU VPN client can be downloaded here:https://its.pku.edu.cn/service_1_vpn_client.jsp
UTSZ VPN: Download the EASY CONNECT Client athttps://vpn.lib.utsz.edu.cn/com/installClient.html
APP: Scan the QR code below to download

The UTSZ Library username is your campus card number. If you forgot the password, you can reset it through the website.